Port Moody
Port Moody is located at the head of Burrard Inlet and at the foot of Eagle Mountain on the North Shore. A vibrant city, Port Moody is 30 minutes from downtown Vancouver and the US border, and just steps from seaside parks, mountain trails and lakes.

Port Moody is thriving, with industries supporting a growing residential community, and strives to harmonize the natural environment with our economy and quality of life. Businesses are attracted to Port Moody's railroad and harbour, as well as retail and service businesses. Port Moody's population is about 33,551 (2016.

Heritage and established neighbourhoods, together with new housing developments on the city's north shore, have attracted people from near and far.

For a link to the City of Port Moody please click here.

For a link to the Port Moody School Board please click here.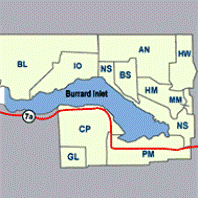 Port Moody Neighbourhoods.
Port Moody is comprised of 11 neighbourhoods.
Anmore (AN)
Belcarra (BL)
Barber Street (BS)
College Park (CP)
Glenayre (GL)
Heritage Mountain (HM)
Heritage Woods (HW)
Ioco (IO)
Mountain Meadows (MM)
North Shore (NS)
Port Moody Centre (PM)

The links below will assist you search all properties currently for sale in New Westminster. If you would like any further information on these properties in New Westminster, please do not hesitate to contact us at 604.505.1647 or email anna@annasmtihrealty.com
Exclusive Search for
Port Moody Houses.
SEARCH
Exclusive Search for
Port Moody Condos & Townhouses.
SEARCH
Service that is personal, honest and professional
For further assistance, call us 604.505.1647 or email us annasmith@remax.net