Port Coquitlam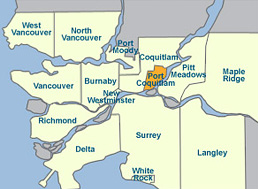 Port Coquitlam is centrally located in the Lower Mainland between the Fraser, Pitt and Coquitlam rivers. With over 266 hectares of parkland within its borders, the community offers an extensive system of outdoor trails perfect for cycling, hiking and leisurely walks.
Port Coquitlam's population is about 58,612 (2016).

Heritage and established neighbourhoods, together with the authentic downtown centre is complete with a maple-tree lined main street and decorative street lamps. Specialty shops, restaurants and small business establishments abound.

Its picturesque natural setting, business opportunities, small-town spirit and dedication to healthy living combine to offer an exceptional living environment for people of all ages.

For a link to the City of Port Coquitlam please click here.

For a link to the Port Coquitlam School Board please click here.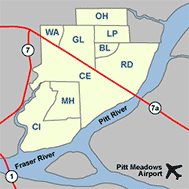 Port Coquitlam Neighbourhoods.
Port Coquitlam is comprised of 10 neighbourhoods.

Birchland Manor (BL)
Central Port Coquitlam (CE)
Citadel (CI)
Glenwood (GL)
Lincoln Park (LP)
Lower Mary Hill (LM)
Mary Hill (MH)
Oxford Heights (OH)
Riverwood (RW)
Woodland Acres (WA)


The links below will assist you search all properties currently for sale in New Westminster. If you would like any further information on these properties in New Westminster, please do not hesitate to contact us at 604.505.1647 or email anna@annasmtihrealty.com

Exclusive Search for
Port Coquitlam Houses.
SEARCH
Exclusive Search for
Port Coquitlam Condos & Townhouses.
SEARCH

Service that is personal, honest and professional
For further assistance, call us 604.505.1647 or email us annasmith@remax.net