Coquitlam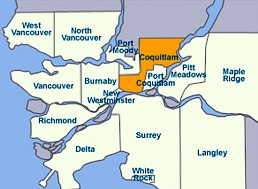 Coquitlam is a dynamic city with a commitment to community-based living it
offers the vibrant action of a growing city combined with a beautiful natural setting featuring abundant parks and green space, arts & cultural venues and multiple recreational facilities.
Young families migrate to Coquitlam, a population of about 140,028 (2017) drawn by the opportunity to live, work and play in a community they're proud to call home.

Visitors are warmly welcomed and enjoy the many shopping opportunities, indoor and outdoor recreation and the diversity of arts and culture.
For a link to the City of Coquitlam please click here.

For link to the Coquitlam School Board please click here.
Coquitlam Neighbourhoods.
Coquitlam is comprised of 23 neighbourhoods.
Coquitlam East (CE)
Cape Horn (CH)
Chineside (CS)
Coquitlam West (CW)
Canyon Springs (CY)
Eagle Ridge (ER)
Harbour Chines (HC)
Hockaday (HO)
Harbour Place (HP)
Meadow Brook (MB)
Maillardville (ML)
North Coquitlam (NC)
New Horizons (NH)
Park Ridge Estates (PR)
Ranch Park (RP)
River Springs (RS)
Scott Creek (SC)
Summitt View (SV)
Upper Eagle Ridge (UE)
Westwood Plateau (WP)
Westwood Summit (WS)

The links below will assist you search all properties currently for sale in New Westminster. If you would like any further information on these properties in New Westminster, please do not hesitate to contact us at 604.505.1647 or email us anna@annasmtihrealty.com
Exclusive Search for
Coquitlam Houses.
SEARCH
Exclusive Search for
Coquitlam Condos & Townhouses.
SEARCH

Service that is personal, honest and professional
For further assistance, call 604.505.1647 or email annasmith@remax.net